Innovative · Cutting Edge · Functional
The drainage you need
for the project you want
In addition to our track record of developing award-winning, distinctive drainage solutions, we have cultivated an extensive portfolio of landscape products and services that consistently challenge traditional approaches in both form and function. Our steadfast commitment to prioritising innovative design and uncompromising quality underscores our dedication to excellence.
New Products
Discover Our Latest Products
Discover our latest innovative products and services, providing advanced and efficient solutions for all your drainage needs. They offer superior performance, durability, and sustainability. Explore these cutting-edge solutions today and elevate your drainage solutions to the next level with us!
Sophisticated & Elegant
Introducing Cast Iron
Our unique cast iron channel drain grates boast eye-catching patterns that effortlessly blend aesthetics with functionality. Whether you're looking to enhance the curb appeal of your home, add a touch of elegance to your garden, or elevate the aesthetics of your commercial space, these grates are the perfect choice.
Product Collections
Discover your drainage inspiration
Our Latest News
Latest Features & Articles
building code
In the realm of architectural innovation, there exists a German phenomenon known as the "Huf Haus." These stunning structures represent the perfect blend of contemporary design, sustainable living, and meticulous craftsmanship. To harmonise with the Huf Haus's unique construction requirements, Lateral Design Studio were tasked with a project to create and craft a custom-made stainless steel drainage grate and frame featuring our popular "Geo-Rectangular" pattern. A solution that would not only meet their strict perimeter building construction standards, but also provide easy access into the home, whilst enhance the aesthetic appeal of these exceptional homes.
What is a Huf Haus?

A Huf Haus is a type of prefabricated house of German origin, characterised by its distinctive post-and-beam construction and floor-to-ceiling glass facades. These remarkable homes are often built in harmony with nature, embracing energy-efficient design principles and sustainable materials. Each Huf Haus is a testament to precision engineering, and they are renowned for their modern aesthetics and minimalistic elegance.

Meeting Strict Perimeter Building Requirements

Huf Haus designs are not only aesthetically impressive but also known for their stringent Huf Haus building code. These codes often include specific requirements for continuous clear drainage troughs around the perimeter of the house, which is where our beautiful custom-made stainless steel drainage grates and frames come into play.

The "Geo-Rectangular" pattern on our drainage grate was specifically designed to complement the clean lines and geometric precision that are hallmarks of Huf Haus architecture. This pattern, characterised by a series of rectangles and shapes, adds an extra layer of sophistication to the exterior of these already striking homes.


One of the primary challenges faced during the construction of Huf Haus homes is ensuring that the construction drainage detailing seamlessly integrates with the architectural design. The wider and more intricate "Geo-Rectangular" pattern of our custom-made stainless steel drainage grate was created to not only enhance the aesthetic appeal but also to efficiently manage rainwater flow while providing easy access. This wider grille provides a more substantial surface area for water to pass through, reducing the risk of blockages and overflow during heavy rain, a common issue in regions with high precipitation.

The Benefits of Our Stainless Steel Drainage Grates

Aesthetic Appeal: The "Geo-Rectangular" pattern is a visually appealing addition to the exterior of Huf Haus homes, blending seamlessly with their architectural style.

Compliance with Regulations: Our drainage grates meet and exceed their strict perimeter building requirements, ensuring that water is efficiently managed without compromising the structural integrity of the house.

Durability: Crafted from stainless steel, this drainage grate is built to last, with a resistance to corrosion and wear, making it an excellent long-term investment for homeowners.

Efficient Drainage: The wider design of the grate allows for effective water drainage, reducing the risk of water accumulation, which can lead to structural damage over time.

Customisation: Each drainage grate is custom-made to fit the specific requirements of each Huf Haus project, ensuring a perfect fit and function and can have special powder coating finishes applied if required.
Read More

+
baked on
Cast iron grates are renowned for their durability and resistance to corrosion, starting off with a grey hue that undergoes a transformation upon exposure to water. The initial contact leads to the formation of a bright orange oxide layer, commonly referred to as "rust," which possesses a loose adherence. Over time, this initial layer washes or wears away, giving rise to a more tightly adhering oxide coating that actually serves to protect the grate from further corrosion. The end result is a distinguished, rich, chocolate brown patina reminiscent of the manhole covers found on city streets.

The Duration of the Oxidation Process

The duration of the oxidation process is influenced by the environmental conditions to which the grates are exposed. Generally, this process can last anywhere from a few months to a year. It is essential to bear in mind that the pace of transformation is accelerated in areas with higher traffic and greater exposure to various weather elements.

Longevity and Durability of Cast Iron Grates

Cast iron has stood the test of time, having been employed for centuries in the fabrication of items that require exceptional durability and resistance to corrosion. Notably, cast iron has been the material of choice for manufacturing ship anchors traditionally used by the Navy. In a raw state, our grates, like those anchors, boast a lifespan of several decades.

Alternative Options to Avoid the Orange Oxidation Phase

While we generally advocate allowing our grates to age naturally and develop their distinct patina, we understand that some individuals may prefer to bypass the bright orange oxidation phase of raw iron. For such cases, we offer an eco-friendly Baked-On-Oil Finish that utilises recycled vegetable oil. It is an aesthetic treatment that creates an aged look. As the oil wears off it will provide a smooth,
graceful transition from installation to final patina.

Alternatively we can provide a powder coating service, a metal finishing process that allows the product to be textured in almost any RAL colour or shade you require. This long-lasting, highly durable and economical finish will be more resistant against scratches, chipping, wear, and fading.

Preventing Staining of Surrounding Areas

The issue of rust staining the surrounding area can be mitigated if your grates are installed in a pre-formed drain body or our custom frames. These drain bodies and frames incorporate materials such as plastic, metallic, or polymer edges, as well as steel edges in the case of our frames. Consequently, this prevents direct contact between the iron grates and the surrounding surface. As long as the drain functions correctly, any rust particles will be efficiently channeled down the drain with the water flow.
Read More

+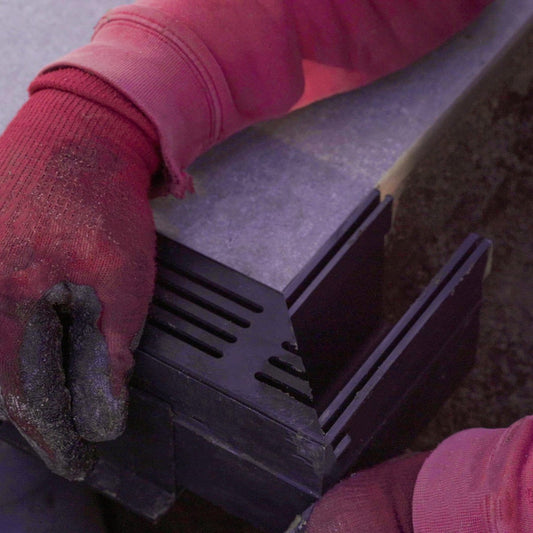 channel drain
There exists a pervasive misconception perpetuated by certain drain suppliers and embraced by landscapers, which suggests that a straightforward uniflow channel drain can be installed at the junction where the external paving meets the door threshold and the internal building structure. This assumption asserts that such drains can be fitted at any level, regardless of the existing DPCs/DPMs. However, it is crucial to clarify that this notion is incorrect and poses a significant risk.
Moreover, there is a common misunderstanding regarding Part M building regulations and disabled access. It is important to note that these regulations do not govern the installation, integration, or construction of drainage at the aforementioned junction. Their sole purpose is to ensure the presence of a level surface, facilitating wheelchair movement.
The height at which the top of the drain cover (level) is set in relation to the internal and external levels directly influences the necessity for meticulous detailing and enhancement of the DPC barriers, both horizontally and vertically. Furthermore, selecting the appropriate drain for this location becomes paramount.
When dealing with a stepped threshold, a simple uniflow channel drain can be employed to collect water from the paved surfaces surrounding the drain. However, in the case of a flush level, or nearly flush door threshold, it is imperative to utilise a dualflow drain. This type of drain collects water from two sources: the paved area and, more importantly, the water that exits the fenestration/door track system through the weep holes or the bullnose threshold.
It is essential to highlight that if a simple uniflow drain is used instead of a dualflow drain system in this specific location, the individual responsible will be held liable for any resulting damage. This holds true regardless of whether a signed waiver is in place or not.
Companies that claim simple channel drains can be utilised at this location, irrespective of its name, for flush level access requirements are misleading and fail to fully elucidate the actuality and consequences of such a choice. They rely on the limited knowledge of landscapers regarding the precise reasons why a drain is necessary in relation to the building's structure.
We hope this information proves beneficial to all landscapers.
Read More

+